What do you think about the idea of taking up a career of Blacksmith? Most of the people think that a "Blacksmith" is a guy who is dressed in a leather apron which is dirty and black. Many people have a perception of a typical blacksmith is that he is leaning over an old anvil, beating out a sword, knife or hammering horseshoes. But many people fail to understand that, the work of making and fixing horseshoe is just a part of a blacksmith trade known as "Farriery". Today, the field and trade of Blacksmith have developed a lot since 1970's in the United States of America. Now the modern blacksmiths call themselves to be as "Artist Blacksmith".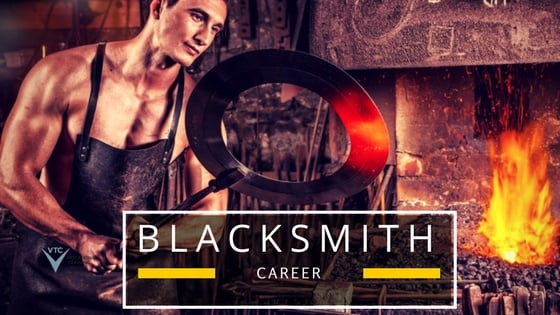 A Blacksmith is a skilled professional who makes and maintains the steel or wrought iron objects by building and shaping these metals by using the equipment like hammers, tongs, chisels, etc. In the recent years, the career of a blacksmith is a bright one. They are engaged in creating fine metal arts and personalized metal pieces for their clients, galleries, museums, business, heavy industries, etc. They are also specialized in industrial work, manufacturing security grills for windows and doors and fire escapes, or creating architectural or artistic work like furniture and iron railings and gates.
An Introduction to the vocational trade of Blacksmith
Today, in the field of Blacksmith, it is important to note that a Blacksmith is a metalsmith who creates objects from different types of metal by casting, forging or beating. A person who wants to be a Blacksmith and is looking out jobs for the same or vocational training for this trade, then he must know that the job of a Blacksmith is not just fixing horseshoe. It is job of a farrier.
Peoples who are looking for a blacksmith job must know that different metal reacts differently with various temperatures. Here you will be required a little knowledge of Physics and Chemistry. However, a formal certification of Science is not required though. For being an apprenticeship of a Blacksmith, You need certain qualities like excellent co-ordination between your hand and eye and physical strength.
The apprentice duration of a Blacksmith requires not just few years or months but a full-time learning of skills and techniques. But you will need proper training in the trade of blacksmith if you want to make a career out of it. If you love the concept of working with hot metals of all kind then the career of blacksmith is best for you.
Best Blacksmith trade school in USA
Here we are mentioning some of the best Blacksmith trade schools in the United State of America:
Virginia Institute of Blacksmithing, Virginia
Rochester Institute of Technology, New York
Austin Community College, Texas
Massachusetts College of Art, Massachusetts
Pensacola State College, Florida
University of Washington, Washington DC
John C. Campbell Folk School, North Carolina
Brookfield Craft Center, Connecticut
The Centre for Metal Arts, Florida
International School of Blacksmithing, Trumansburg, New York
Blacksmith Career Information
After the advent of the industrial revolution and invention of powerful tools and machines, the necessity of a Blacksmith is slowly declining. But in some parts this job still exists but only as an art. The modern blacksmith considers themselves to be a metal artist. Now, there are still some opportunities for a blacksmith which is quite great and have good job opportunities. Peoples prefer some activities to be done by a blacksmith like drilling, chisels, personalized metal designs for iron gates, railings, furniture, weapons, tables, light fixtures, sculptures, plant hangers, hooks, and doorstops. These works are not possible through machines and hence need the help of a blacksmith. The work done by the blacksmith is heavy duty, resists wear and tear, looks elegant and requires a lot detailed work.
In this dynamic career, a blacksmith needs tools, fire, and metals to perform his work. This is a very dangerous art which a blacksmith does. He molds the metal pieces into ornamental designs, even heating up the metals to a high temperature in a furnace. The metals are very flexible at high temperatures, so the blacksmith hits and bend the metal around an anvil with hammers, tongs, and other tools.
This functional art can be crafted into a great niche. Good experience is required to create masterpieces of art. Moreover, you can also work on your own and directly deal with your clients. You can even specialize yourself in the most demanding job of creating door designs, kitchen utensils, and designer railings or fences. Moreover, Blacksmiths also has great job opportunities in various fields.
The vocational education of the trade of blacksmith requires no formal education except good and long apprenticeship with the experienced blacksmiths. But, if you seriously want to make this your career, then you can take up some blacksmith vocational courses which is offered by many Universities and vocational schools in the United State of America.
Responsibilities and duties of a Blacksmith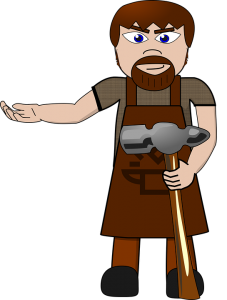 The typical tasks performed by a Blacksmith includes:
Selecting the appropriate metal for a particular product or service.
Preparing a task time.
Identification and selection of the necessary tools, equipment, and machines required for the task.
Making patterns and suggest the appropriate features on the workpiece metal.
Make a plan of the required tools.
Heating up the metal, brass, copper, and other metal types in a furnace using many types of tools and machineries.
Using the welding equipment and other finishing touches of the products.
Final reading and understanding of the product's drawings, sketches and layout plans.
Working effectively with great responsibility with team in case of working with large projects or big products.
Skillfully operating the equipment for metal works like reciprocating, band, circular saws, and welders, etc.
Making a rough size of preliminary cuts according to the plan and job specifications.
Performing process of heating of metals using coal, electrical and gas forges or furnaces.
Final inspection of the completed products and services.
How can you become a Blacksmith?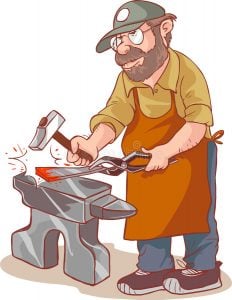 You can become a blacksmith without a formal education. But if you want to be a professionally skilled blacksmith then you must undergo years and months of training and study with an experienced blacksmith or at some vocational training schools offering courses on blacksmith and other allied trades. Blacksmiths with formal education can excel in their career with great success and higher wages.
Technical and vocational schools do offer degree programs in learning the trade of Blacksmith. But if you want to become a successful blacksmith, taking training to learn the skills of metal forging and welding along with your degree course will be more beneficial.  Individuals who are looking forward for a career in Blacksmith can do an apprenticeship program with the skilled and experienced blacksmiths.
What will you learn in Trade School?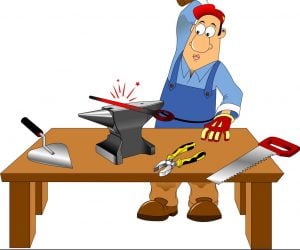 In some schools and colleges, a student of this trade can learn the basic introductory details of blacksmiths like the history of the trade, basic terminology, and introduction to tools, etc. The courses provides to the students the full knowledge and skills of traditional and modern practices of Blacksmithing. You will be also taught to experiment of metals, manipulating the metal and creating it to combine with other metals to manufacture goods and services. In these trade schools, the students were also allowed to work independently and create their own metal product for campus exhibition. Students get both theory and practical experiences.
Some of the courses a student will learn in trade schools are Blacksmithing, Women work Blacksmithing, Intermediate Blacksmithing, Axes, Hatchets, and Tomahawks, and Blacksmithing Bootcamp. Students learn the production of Damascus steel, tools, wrought iron, forge artwork and historic hardware, etc. They also learn steel selection, tool design and heat treatment.
The typical duration of a Blacksmith Training Program
In general, a blacksmith training program takes 6 months to 2 years of formal training along with practical work and apprentice programs.
Average Salary of a Blacksmith
Blacksmithing is a dangerous occupation. If you plan to work at least 30 50 hours per week, then you can earn about $15 to $25 dollars per hour. You can make up to about $25,000 in a year.
Areas and sectors where Blacksmiths works
The trade of a Blacksmith is a functional art and they can make their own metal art pieces and sell them to their clients, they can also set up their own business and work on their own. Besides selling this functional art they can also find jobs at civil war reenactments, fairs, and museums, or a specialized farrier to fix up horseshoe. Moreover, an experienced Blacksmith can also work as an instructor in some vocational schools offering various programs of Blacksmith courses.
You can also set up your own studio, or also work in industries of engineering and mining. Moreover, you can also use the skills of blacksmiths to work as a welder, ironworker, industrial maintenance mechanic, sheet metal worker, boilermaker, and tool and die maker.
Benefits of Blacksmith Vocational Training
A vocational training and formal education on learning the trade of blacksmith offers many positive benefits. These are:
Internship opportunities for gaining maximum experience, and establishing contacts within the industry. These internship programs can teach the students with new techniques which might not be taught in the classroom. These internship programs can brighten up your career.
If you have exposure and training at the trade schools of blacksmiths like the community centers, local art workshops, and historical centers can increase your knowledge and help you find a stable position in the field of blacksmith.
Getting formal training at the Blacksmith trade school can make your entry at decorative art work firms and other industries.
A Blacksmith who has received formal education regarding Blacksmith trade and year of experiences can even land him on the job as an instructor to the best vocational schools, that the various niches within the field of blacksmithing.
You can check this video for the brief info about the blacksmith.
Final Thoughts
So, these are various aspects of the career of a Blacksmith. If you want to be a Blacksmith and want to earn a degree in the trade of Blacksmith can learn a lot about this trade through this article. You can also search for more information online regarding the courses, duration, fees and lists of the best colleges and vocational schools offering various programs of Blacksmithing.