For anyone who wants to be part of the healthcare industry, becoming a home health aide is a good career.
Home health aides or HHAs are trained professionals who provide in-home health care. They normally work with people suffering from chronic illnesses, physically or mentally handicapped patients, or old patients who are unable to take care of themselves on their own. Many patients prefer receiving healthcare in their homes. It is also less expensive than staying in a nursing home or hospital for a long period of time. HHAs give you the option of being at home with your family members. This is why many people seek to employ HHAs.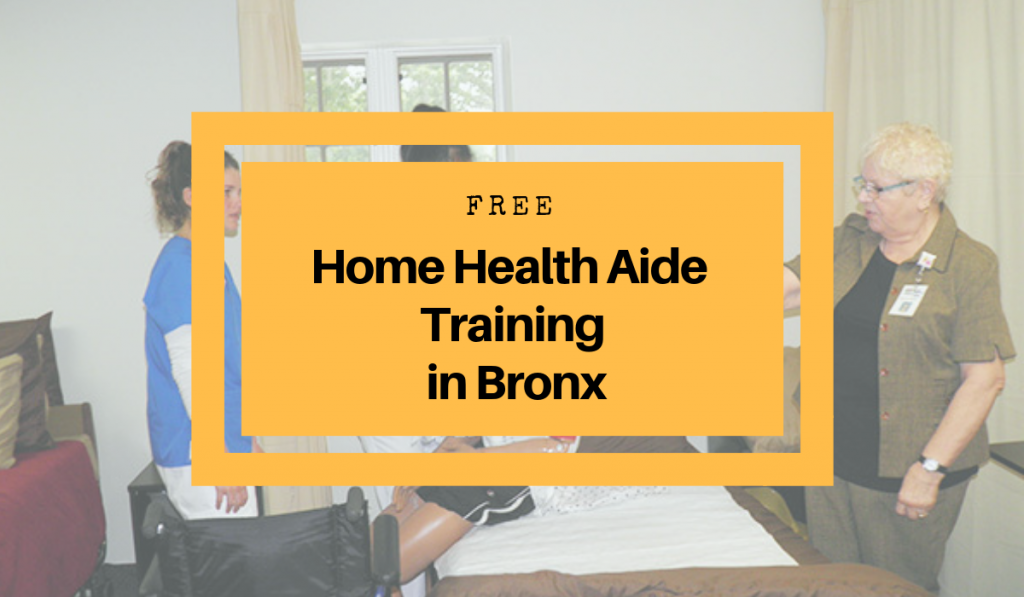 What is the eligibility to apply for a Home Health Aide course in the Bronx?
Technically, one does not require any formal education to become a home health aide. You only need a high school diploma or equivalent to be an HHA. Some organizations do not even require that, but it is preferred to have a diploma. You must also be at least 18 years old to apply.
In order to work as a home health aide, you need to complete your training and pass a test.
Growth Prospects of Home Health Aides
As per the Bureau of Labor Statistics, the number of home health aides is likely to increase by 40% between 2016 and 2026. This is very high in comparison to other healthcare jobs.
The demand for HHAs is quite high in the New York City and is expected to remain so in the future as well.
How much money can you make as a Home Health Aide?
As per the data released by the Bureau of Labor Statistics, the median salary of home health aides in 2018 was $24,060 per year. This implies that they can easily earn up to $11.57 per hour.
How to long does it take to become a certified Home Health Aide?
In New York, the HHA training programs are a minimum of 75 hours. This includes 59 hours of classroom training and 16 hours of supervised practical training. With practical training students are given hands-on experience in a proper healthcare environment like a private home, hospital or laboratory.
After successfully completing the training, you will be listed on the New York State Home Care Registry along with your information.
Are there any free Home Health Aide courses?
All home health aide agencies in the New York City are approved by the New York Department of Health or the New York Department of Education. As per the rule, any agency that is approved by the New York Department of Health cannot charge tuition fee for an HHA course. This means that you can avail your training for free. There are a number of institutions that you can approach free HHA courses:
Cooperative Home Care Associates
CHCA offers a free four-week course. Classes are held Monday to Friday from 9:00am to 5:00pm. You can opt for English or Spanish classes. CHCA provides a certification in home health aide as well as personal care assistance. They also guarantee employment at the end of the course.
Partners in Care
Partners in Care is another institution that provides free healthcare. Partners in Care is an affiliate of the Visiting Nurse Service of New York also known as VNSNY. This is one of the oldest non-profit home health care agencies in the country.
Unlimited Care
Unlimited Care also offers free HHA training in the New York City.
You can avail these courses and many others for absolutely free. There are no hidden costs and most institutions offer employment at the end of the training.