CNA is a certified nurse assistant. Certified nurse assistants are the link between the patient and the licensed nurse. Their responsibilities include taking care of the patient's personal and health needs. They also communicate vital information about the patient's health to the licensed nurse. Certified nurse assistants are also known as nurse aides, licensed nurse aides, personal care aides etc. All these names may sound different but they essentially perform the same role. CNAs primarily work in hospitals, nursing homes, personal homes, assisted living institutions, etc.  Nurse assistants play a very crucial role in keeping the patient healthy, and comfortable.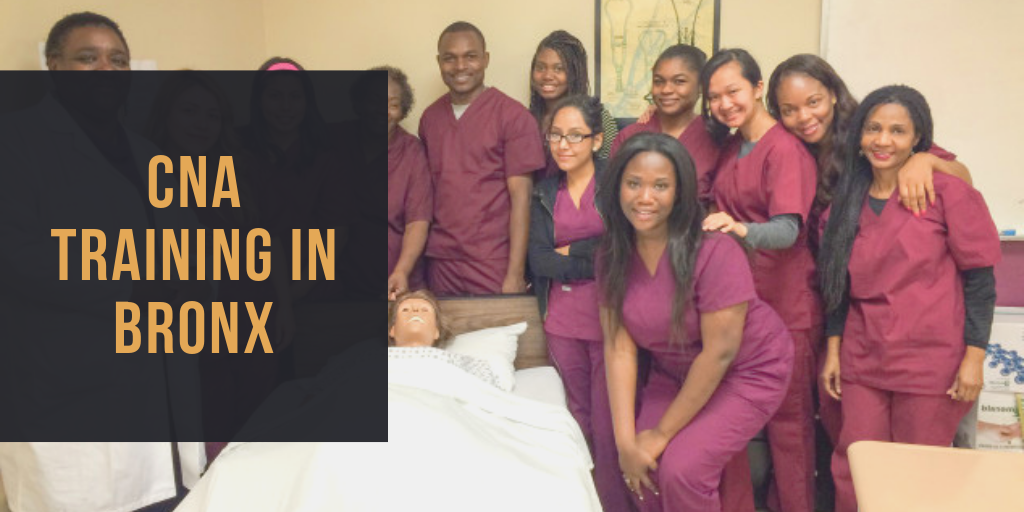 Eligibility to apply for a certified nurse assistant course in Bronx, NYC
You must be at least 18 years old to apply to a certified nurse assistant course in New York. Having a high school diploma is not necessary to be a nurse assistant. However, if you ever decide to change your field or move towards a different career in healthcare, you may require a high school diploma or an equivalent.
Ideally, before applying to a course, there is a medical and physical background check of the candidate, followed by a criminal verification. There is also an immunization verification that is carried out for each candidate.
Growth Prospects of a certified nurse assistant
The demand for certified nurse assistants has risen dramatically in the recent years. As per the data released by the Bureau of Labor Statistics, the employment rate of certified nurse assistants is expected to grow by 11 percent between 2016 and 2026. CNAs also have the freedom to choose the schedule that suits their convenience, making it a flexible job.
How much money can you make as a certified nurse assistant?
As per the data released by the Bureau of Labor Statistics, certified nurse assistants in the New York City can expect to make an average of $13.72 per hour. This is higher than the national average of $12. The yearly average salary for a nurse assistant is $28,060.
How long does it take to become a certified nurse assistant?
To become a certified nurse assistant, one must complete a nursing course. The course is divided between 70 hours of classroom learning and another 30 hours of lab training. The lab training is extremely important so that all nursing assistants understand the intricacies of a patient's health.
After completing the training, the candidate is eligible to take the certification exam. The certification exam comprises of a written exam and a skills exam. Your course provider will ideally assist you in taking this exam. You need to submit a copy of your course completion certificate to register for the exam.
Only after successfully passing the exam, a candidate is given a certification that states that they can work as a certified nurse assistant in New York City.
Are there any free certified nurse assistant courses in the city?
There are several courses available in Bronx, New York City. You can take them up for free.
The Good Shepherd Fairview Home provides a free course for certified nurse assistants. Another institute is the First-Care of New York, Inc. (Bronx). You can also study at Finger Lakes Health or Lakeview Rehabilitation and Care Center.
All these institutions provide free training for nurse assistants and can be availed at no hidden costs.