Vocational training or, simply the skill-based education in various trades and study areas enables the young students to gain the relevant skills of a certain trade where the student desires to work after completing his vocational education. In India, vocational training is non – academic and are directly associated with a specific trade, occupation or a job. Vocational training offers theoretical concepts of a particular trade.
Vocational training provides technical education which is in huge demand in today's job sectors. With the growing number of various industries in the different part of India, there is high demand for skilled workforce. But only 2 % of the students opt for vocational training since there are many schools in India where vocational training is not made mandatory. This results in a great divide between the supply and demand of skilled human resource in various parts of India. Hence, due to this, there is a higher rate of unemployment.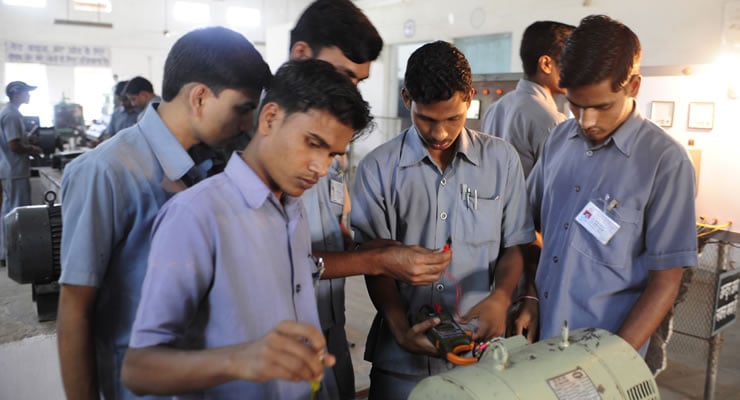 Recently, we have seen that India has realized the importance of gaining vocational education and training and the Indian Government is doing a lot to make vocational training popular in India. Vocational training in this country is offered in part-time and full- time courses. The Full-time course is administered by the Industrial Training Institute (ITI), while the part-time vocational courses are offered by the State Technical Education.
Vocational training in India
Vocational training in India is taught by two organizations. These are:
Polytechnics: A privately owned Industrial Training Centre
Industrial Training Institutes: A Government Institute for technical education.
These institutes offer diverse training in various trades under various sectors. These are as follows:
Commerce: Office Assistant, Stenography, Computer Applications, Accountancy &Auditing, Marketing, Banking, Retail, Finance and Business Administration.
Engineering: Electrical Engineering, Automobile Engineering, Civil Engineering, Air Conditioning and Refrigeration Technology, Mechanical Engineering, Electronics& Communication, GeoSpatial Technology, Foundry and Information Technology.
Heath and Para Medical: Ophthalmic Skills, Medical Laboratory Skill, Nursing & Midwifery, X-Ray Technician, Healthcare Sciences, Beauty Studies, and Medical Diagnostics.
Home Science: Fashion Design, Clothing Construction, Textile Design, Music Technical Production and Beautician courses.
Agriculture: Poultry farming, Horticulture, Dairy Science, and Technology.
Hospitality and Tourism: Food Production, Food & Beverage Services, Mass Media Studies & Media Production, Mass Communication & Journalism Bakery & Confectionary, Front Office (Receptionist)and Travel & Tourism.
Others vocational courses: Life Insurance, Transportation & Logistic Management, and Library & Information Science.
Courses/Scheme offered by Government of India
All these courses are also offered by the Government of India under various schemes. These are also following:
Udaan: Udaan is a special industry initiative programme specially designed for the Indian State of Jammu & Kashmir. This is a five-year program offering vocational courses and job opportunities in the fields of Information Technology, BPO, and retail. This provides training skills to the unemployed youths of Jammu & Kashmir. The Scheme shelters 40,000graduates, postgraduates and three-year engineering diploma holders. The key stakeholders of this scheme are Ministry of Home Affairs (MHA), State Government of Jammu and Kashmir, Corporate Training partners and Implementation Agency (IA) NSDC. The cost of this program is Rs. 750 crore.
Polytechnics: This is an Industrial Training Centre present in almost all the States of India. It offers three-year diploma courses in various branches of Engineering and Computer Science.
Parvaaz: Parvaaz is a vocational training and employment scheme especially aimed at the development of the minority students, BPL families, and school or college drop-outs. This is an initiative taken Ministry of Rural Development Government of India. Under this scheme till now 4759 students are enrolled, 3177 students are trained and 2783 students are placed in various job sectors.
National Rural Livelihood Mission: National Rural Livelihood Mission is a poverty alleviation initiate which focuses on promoting self- employment by providing vocational training to those peoples who belong to the BPL group, handicapped group, and also includes women empowerment in rural India. This program was launched in June 2011.
Industrial Training Institutes: Industrial Training Institutes (ITI) is an industrial training institute which offers various engineering and non – engineering trades. This is managed by Directorate General of Employment & Training (DGET), Ministry of Skill Development and Entrepreneurship, Union Government. Every State of India has an ITI education center.
Aajeevika mission of national rural livelihood: This programme is for the rural section where they are provided with the additional knowledge, tools, skill sets, and financial aid for bringing development in their income source. This was launched by the Ministry of Rural Development (MoRD), Government of India in June 2011.
Craftsmen Training Scheme: Craftsmen Training Scheme is administered by the Directorate of Vocational Education & Training. It provides employment in various sectors like Engineering, Information Technology, Agriculture, Paramedical, Home Science and Trade & Commerce.
Minimum Qualification to pursue Vocational training
A student must pass his high school examination and then opt for vocational training after appearing and qualifying for the entrance examinations like the Polytechnic tests, ITI examinations, etc.
Challenges faced by the Indian students to pursue vocational training
High rise in school dropouts.
Vocational education is only offered to those students who are studying at a high school level.
Non-encouragement of industries in promoting vocational education.
Very fewer institutes to offer vocational training.
Severe lack of experienced and skilled trainers and instructors in vocational training.
The current education system is not approachable towards the vocational education, and this led to the huge gap between supplies of the skilled workforce to the demand of various industries.
Final Thought
Recently, the vocational training has brought a new hope to the millions of youths in India. Having a vocational education enables then to gain skilled technical knowledge of the desired job sector. Moreover, their future is secured with the good number of jobs after they complete their vocational training.