Vocational training in Kolkata- the capital city of West Bengal is very important for the job- seekers. Kolkata is the city with the largest number of unemployed youths looking out for desirable jobs. Now, for these youths there many companies set up in and around Kolkata looking for skilled youths. The introduction of vocational education in Kolkata has changed the mindset of many people and they have accepted the credibility and usefulness of the vocational training institutes. In Kolkata according to the past studies, only 20 % peoples are getting secured jobs while the rest of the 80 % people are not getting any kind of fixed job which will shape their career. So, vocational training in the various job-friendly courses has come to their rescue.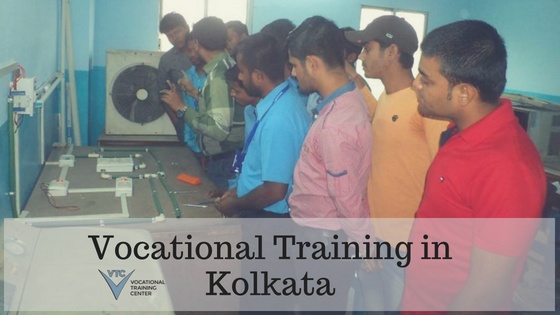 There are many industries and factories in various sectors such as food, steel, apparel and motors, etc which need the skilled workforce in Kolkata. Moreover, the famous factories of Britannia, Durgapur steel plant, Chittaranjan locomotives and many others need highly skilled workers to run these factories and industries. They also prefer to engage local youths for these jobs. So, if a youth of West Bengal possess a vocational degree of particular courses then he or she will be selected for the job.
So, if you want to get a career with steady and good income then you must take up suitable vocational courses. This will mark an important aspect of your career and will also help to strengthen the state's economy and lead the path to development.
Why must you consider enrolling yourself in Vocational schools in Kolkata?
If you pursue a vocational training in a certain trade at Kolkata, endless opportunities await you to boost your career. These are:
Kolkata is the oldest industrial capital of India during the times of British rule. Now currently, it holds the large number of industries and factory units in sectors of apparel, food, medicine, motors, and locomotives. So, skilled youths of Kolkata might get a chance to engage in lucrative jobs in various industrial areas of Kolkata and its suburbs.
Lucrative jobs at good companies are guaranteed if you pursue training at a certain vocational trade. Here while you pursue the courses you have mastered yourself in the skills of the trade which is necessary for the job. For example, if you take up the course of motor mechanic and master the skills of being a full-time mechanic, then you are sure to get the job at the leading motors manufacturing units situated in Kolkata.
The vocational certificate which you will get after completion of your vocational courses will prove to be the positive point in getting the job.
Wide options of Vocational Training
Vocational Training Institutes offers various courses ranging from 6- 24 months in areas of Textile & Fashion designing, Interior designing, Electronics and mobile repairing, mechanical engineering, hardware & networking, Electrical & electronics Equipment Servicing & Repairing, silk-screen printing, software development, and many more job-friendly vocational courses.
Minimum Qualifications to take admission at the Vocational Training
A candidate must pass 10th or 12th board examination better known as Madhyamik and Uchha Madhyamik in Kolkata.  The candidates can opt for vocational training after appearing and qualifying for the entrance examinations like the Polytechnic tests, ITI examinations, etc.
Best Vocational Training Institutes in Kolkata
Here are some of the best Vocational Training Institutes in Kolkata. These are:
W.B. (West Bengal) Urban Academy Pvt. Ltd.
The W.B. Urban Academy Pvt. Ltd. Is a joint venture of the Vocational training institute and the Youth Service Department of the State Government of West Bengal. This was formed to expand vocational training all over Kolkata. This training institute offers courses to various youths to make them professionally skilled and self-reliant enough to start their own business. The W.B. Urban Academy provides diploma courses like Interior Decoration & Designing with CAD, Fashion Designing with Computer, Still Photography, Mobile phone & telephone repairing, TV & Radio- Tape repairing and Computer Hardware & Networking.
You can apply for vocational training at this institute by clicking the website- www.wburbanacademy.com  and know about the admission process. Moreover, you can also simply call (033)-2265-6128 for more details.
Regional Vocational Training Institute for Women
Kolkata is also one of the cities of India to have a campus of the well-known Regional Vocational Training Institute for Women situated at Salt Lake area of the city. This was established exclusively for the women candidates in 1977. This is established and managed by the Directorate General of Training (DGT), Ministry of Skill Development and Entrepreneurship (Erstwhile Ministry of Labour & Employment, Directorate General of Employment and Training (DGE&T). This premium vocational institute offers various vocational courses like the advanced diploma programme in Beauty Care & Hair Dressing, Certificate course in Hair & Skincare, Dressmaking and Computer Operator & Programming Assistant, Basic Cosmetology, Secretarial Practice (English), Desktop Publishing Operator, Architectural Draftsmanship, Fashion Design & Technology, Interior Design & Decoration,  and Electronic Mechanic.
You can apply for the vocational courses at the Kolkata campus of the Regional Vocational Training Institute for Women at the official website- www.rvtitura.gov.in  or you may call at 033 2367 3673 for more information.
Palium Skills Professional Training Institute
The growing digital marketing industry has created dynamic jobs in the internet industry, and young professionals are opting for the digital marketing courses and allied courses. So, the Palium Skills Professional Training Institute in Kolkata has provided Digital Marketing Training and SEO Training Courses for professionals. It also offers IT courses which are in great demand in today's lucrative job industries.  The Palium Skills Professional Training Institutes offers professional courses in Android Apps Development, Web Development, Digital Marketing & SEO, Big Data & Hadoop, Oracle training, Microsoft training, Network oriented courses, etc.
If you want to pursue these courses then you can apply online at the official website of Palium Skills Professional Training Institute- http://paliumtrainings.biz . Moreover, you can also call at 084205 94969 for more details.
Final Thoughts
The vocational training institutions in Kolkata listed above are some of the best offering vocational training courses. Selection of the desired course and trade is entirely your decision.  Before you take admission at any of the vocational training schools in Kolkata you must gain enough information by checking the institute's website, or visit the institute personally or communicate with the ex- students.