It is hard to get a job at Chicago is you do not possess technical skills which are required in the maximum number of jobs these days. If you are resident of Chicago then you will know that why this city is the most desirable one. The style and class of Chicago lie in its peoples who are employed in various industries through their technical knowledge and skills. Chicago is the storehouse of educational institute and the vocational training institutes are foremost among them. Here, cost-effective and free training programmes are being provided to the youths for sound employment and development of this region.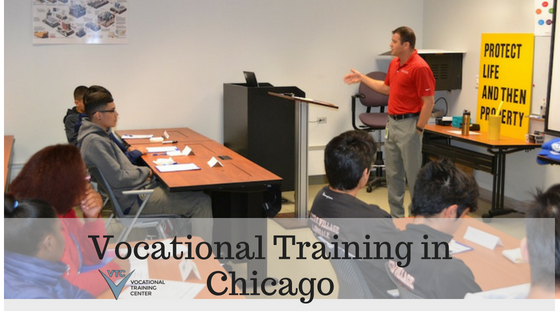 There are many benefits to pursue a vocational training in Chicago due to several facts. These are:
Cost-effective: Earning a full-time college degree will extract a lot of money from you, but thanks to the cheap and even free training programmes at most of the vocational institutes, students flock to Chicago to pursue this.
Faster course completion: When you desire to work early, Chicago has some of the vocational courses which are of very short duration. This allows you to learn the needed job skills very quickly and finally this catches the fancy of the employer's attention.
Job-friendly courses: When you are looking for a job and when the interviewer looks at the job skills mentioned at your resume. If the skills match to their job requirement, then you are immediately hired.
Easy transportation: Easy public transport and transport pass are very useful for the students who travel a lot to get to their institution of vocational studies. Moreover, this is very affordable and easy for the students.
Chicago offers vocational training and a hope to get a lucrative job in sectors of Healthcare, Security, Art, Media, Entertainment, Construction, Architecture, Engineering, Legal, Automobiles, Fashion Technology, Hospitality and many more lucrative filled with good job opportunities.
Young students preferring for vocational education after their school education can go for some of the notable vocational training institutes of Chicago which have changed the lives of an innumerable young brigade of Chicago. Some of these are discussed below.
Best Trade schools In Chicago
The Illinois Institute of Technology
The Illinois Institute of Technology is one of the oldest technical institutes of Chicago, established in 1890. It offers vocational courses in fields of Engineering, Design, Architecture, Food Safety & Health, Applied Technology, Hospitality, Media Arts and many more on the list. Aspiring students who are waiting to get themselves admitted at the Illinois Institute of Technology must pass the admission test conducted by the institute. For more details, you can check the official website of the Illinois Institute of Technology- https://web.iit.edu/  regarding admission, courses, fees, etc.
Coyne College
Coyne College is famous for providing various degree and diploma vocational courses which are in great demand of the employers and industries of Chicago. The institute is having 2 college campuses. Once, Coyne College was known as the famous electrical school of its kind, and since then it has trained technicians in television and radio repairing. Now, Coyne College offers diploma and degree programs to the young students who want to earn early and quickly join the workforce.
Coyne College offers vocational courses in HVAC Refrigeration, Electrical Construction & Planning, Electrical Construction & Maintenance, Medical Assistant, Medical Billing & Coding Specialist, and Pharmacy Technician. You can apply for admission at any of these courses if you are 17 years of age or above. And, if you possess the high school diploma certificate or GED. In addition, you are also required to contact the admission representative of Coyne College, pass their personal interview along with the entrance examination or provide the valid ACT/SAT score if it is acceptable. For more details, you can go through the official website of Coyne College- https://www.coynecollege.edu/  and get to know more about this college and its admission procedure.
Professional Career Certification and Training Institute (PCCTI)
Founded in 1997 at Illinois, the Professional Career Certification and Training Institute are a premium vocational training school offering vocational courses in the well demanding healthcare field. This is approved by the Illinois State Board of Education and offers vocational courses like Practical Nursing, Pharmacy Technician, Cardiology Technician, Medical Assistant, Medical Billing & Coding, Phlebotomy Technician, etc.
If you want to get yourself admitted to the Professional Career Certification and Training Institute, then you have to fill the online registration form at the official website – https://pccti.com/ .
Chicago Vocational High School
Chicago Vocational High School, commonly known as Chicago Vocational Career Academy offers hardcore vocational programmes to the high school student. The vocational training is managed by the Career & Technical Education Department. It offers vocational courses in Carpentry, Cosmetology, Culinary Arts, Diesel, Horticulture, and Medicine. Chicago Vocational Career Academy also offers military training if the young students desire to be part of the U.S. Army. For more details and admission procedure you can visit the official website – http://www.cvcacademy.org/   and apply online.
Final Thoughts
You should be thankful to Chicago to offer some of the free vocational training programmes and demanding vocational careers which are in high demand in the present job scenario. There is hardly any reason which will stop you from getting a lucrative job if you pursue vocational courses at any of these well-known vocational institutes of Chicago. It is important to make e rigid study of the vocational course and the vocational training institute which you are about to choose for your future. Do make a good study of this and make your future bright.