Young Mumbaikars who are residing in Mumbai and struggling to make their lives in this financial capital of India every day hopes that they will get a good job to sustain themselves and their family members. But sometimes, their hopes get crashed due to inability to attain job or not getting any luck to get a desired job. According to recent study by the World Bank, only 40 % of the Indian graduate youths are getting jobs while the rest of the 60 % youths are unable to get a suitable job. This is so because they have followed the traditional way to gain higher education which is not enough to get job at the present times.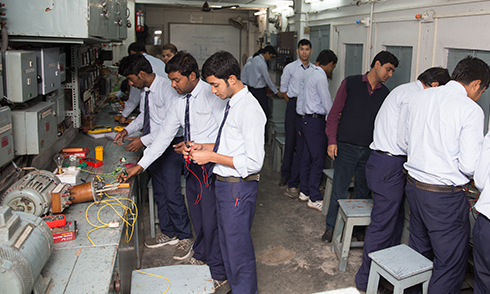 World Bank also stated that currently, the job scenario is like this that now the industries and other job sectors requires only the technically skilled workforce which meets the advanced standards of International market. In India, only a nominal percent of youths go for the vocational training. So, if you want to get a bright career and stable income then you must consider taking up various vocational courses. This career holds an important part of the workforce and a great aspect to boost up the Indian economy too.
Why you must consider enrolling yourself in Vocational schools in Mumbai?
Pursuing a vocational training in a certain trade at Mumbai has many positive aspects. These are:
Mumbai is the financial capital of India as well as the holder of large number of industries and factory units in various parts of Mumbai and the neighboring areas of Navi- Mumbai, Kaylan, etc. So, skilled youths have great chance to get job in the huge industrial area of Mumbai.
If you take training at a certain trade, and master the skills of the trade then you can get lucrative jobs at various sectors. For example, if you take up the course of dressmaking and master the skills of being a complete dress maker, then you are sure to get the job at the leading textile companies of Mumbai since most the reputed apparel brand's factories are present in Mumbai.
The valid certificate you will get after completion of your vocational training will be another added advantage to get the job.
Wide options of Vocational Training
Vocational Training Institutes offers various courses ranging from 6- 24 months in areas of Information Technology, Healthcare, Hospitality, Fashion, Automobile, Agriculture, Home Science, etc. All these courses are offered by the polytechnics and it is in Mumbai.
Minimum Qualifications to take admission at the Vocational Training
A candidate must obtain his or her high school leaving certificate examination and then opt for vocational training after appearing and qualifying for the entrance examinations like the Polytechnic tests, ITI examinations, etc.
Vocational training institutes in Mumbai (India)
Below are some of the best Vocational Training Institutes in Mumbai. These are:
Council of Education and Development Programmes (CEDP)
The Council of Education and Development Programmes (CEDP) was formed in 2010 and since then it provides quality education to the various areas in Mumbai. This vocational institution has 147 training centers in the country. It offers vocational training in fields of  Aviation, Hotel Management, Industrial Safety, Financial Accounting & Management, Paramedical, Automotive etc. You can apply online at these courses by clicking on the https://www.cedp-edu.com/apply-now/ .Moreover, you can also call its toll free number 1800-123-5226.
Regional Vocational Training Institute for Women
The Regional Vocational Training Institute for Women was established in 1977 with an objective to empower the women folk in various types of employment sector by providing them the vocational trainings. The courses offered in this vocational training institute are supported and affiliated under the Directorate General of Employment & Training, Ministry of Labour and Employment. Now the Ministry of Skill Development and Entrepreneurship are governing over the activities of this vocational college. It also conducts training programmes in Craftsman Training Scheme Semester Pattern (CTS) and Craft Instructors Training Scheme Semester Pattern (CITS).
Some of the courses offered here are Dress Making, Cosmetology, Electronic Mechanic, Computer Operator and Programming Assistant, Desk Top Publishing Operator, Architectural Draughtsmanship, Secretarial Practice (English), etc. Moreover, this vocational training school is best for conducting on-job training programs and has an effective placement cell.
If you want to gain admission at the Regional Vocational Training Institute for Women then you are require to download the admission form at the link- http://rvtimumbai.ac.in/pdf/Basic-form-format-2016_07062016.pdf . Moreover, you can also directly call at 022-24223962 or you can check out at the Institute's official website http://rvtimumbai.ac.in .
Global College of Vocational Training
The Global College of Vocational Training is recognized by the Maharashtra State Board of Vocational Examinations. This vocational training institute offers diploma and certificate courses in Interior designing &decoration, Pre-school teacher training and Architectural Draughtsman. In order to take admission at this college, you must apply on the approved form which will be available at the office. Along with form you are also required to submit the attested photocopies of your SSC/HSC or LC certificate along with 2 copies of photographs and caste certificate if it is available. Moreover, for other information you can call 022 21632366 or check out its official website at http://www.gcvt.in .
Indian Aerospace & Engineering College
The Indian Aerospace & Engineering College is a premier institute to offer licensed training in aircraft maintenance engineering and other aviation courses. This is approved and governed by Director General of Civil Aviation, Ministry of Civil Aviation (Govt. of India). This Vocational training institute was founded on 1990 and is also approved and acreddited by UGC and NAAC.
The Indian Aerospace & Engineering College offers courses in Aircraft Maintenance Engineering, Pilot Training and Aeronautical Engineering. If you want to take admission at any of these courses then you are required to fill up the online registration form at http://www.indianaerospaceandengineering.com/online-registration/ . For other information you can contact at the toll free number 1800-227-786 or check out the official website at http://www.indianaerospaceandengineering.com/.
Inspire Academy
Inspire Academy offers job oriented courses to the students who have passed their 10th and 12th board exam and also to the final graduation students. This is an ISO 9001:2008 certified institution and is accredited by JAS-ANZ. It offers professional diploma programmes in duration of 3-12 months in areas of Air Hostess Cabin crew, Airport & Travel Tourism Management, Business Administration, Hotel Management, Retail Management, Cruise Ship, Travel & Tourism Management, Banking & Finance, Air Cargo & Aviation Logistic Management, Airport Familiarisation & Security Management and Personality Development.
For admission you can contact at +91 8655408999 or you can fill up the form at the official website of http://www.theinspireacademy.com.
Final Thoughts
The vocational training institutions in Mumbai listed above are some of the best to offer vocational training courses. Here you can select the desired course and trade in where you want to study and make this as a career.  Before you take admission at any of the vocational training schools in Mumbai you must do well research on the institute by checking its website, visiting the institute or communicate with the past students.