The role of a Dialysis Technician is to operate machines and perform dialysis on patients suffering from acute or chronic kidney failure. They also work under the supervision of nurses and physicians and are expected to follow strict protocols. Normally a dialysis is carried out for a minimum of 4 hours. A dialysis technician must at all times guarantee the safety of the patient.
Dialysis is s procedure to remove waste fluids from a patient's blood and vascular system when their kidneys are not adequately performing this function on their own, naturally. Medical Assistants, Emergency Medical Technicians, Patient Care Technicians, Phlebotomists etc can all apply for a dialysis technician course. In fact anyone interested in an allied health career can opt for this course.
Dialysis Technicians do a very wholesome job or providing patient's medical as well as emotional support. They also need to closely work with nurses, doctors and other hospital staff.  A career of a Dialysis Technician is extremely rewarding. Most dialysis technicians treat the same patients over and over again and are able to form long lasting impressions.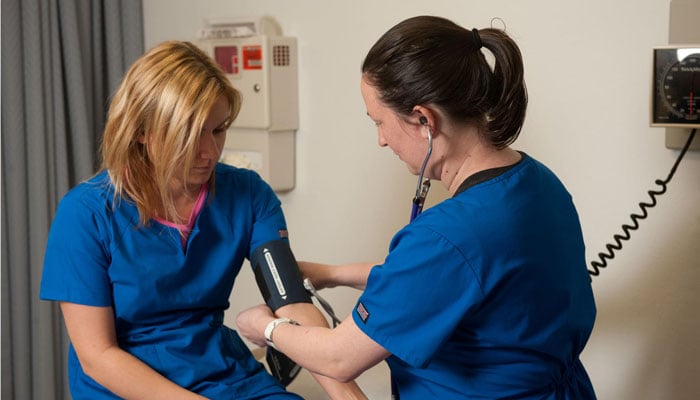 What is eligibility to apply for a dialysis technician course in NYC? 
To be a dialysis technician, you must have a minimum of a high school diploma. You will need to pass a physical as well as a criminal background check.  An added advantage with a background in mathematics and the sciences is good.
A dialysis technician course is a combination of coursework and on-the-job training. You need to attend a dialysis technician school to complete an accredited dialysis technician diploma or certificate program at the end of which you need to pass a license exam.
Some dialysis technician programs have a prerequisite like you should be certified in a particular medical field like nurse aide. Some programs also require you to have studied mathematics, biology or chemistry in high school or college
In New York State you do not require a license to work as a Dialysis Technician. When you finish your Dialysis Technician training, your Institute issues you a diploma that can fetch you an job.
However, after graduation from the program, once you are employed as a dialysis technician, you must pass a certification exam of CCHT, or CCNT within 18 months of employment.
Why become a Dialysis Technician in New York City?
Dialysis Technicians are expected to have an employment growth of 30 percent between the year 2012 and the year 2022. The need for dialysis technicians is rapid increasing. A major part of the aging population is seeking treatments like dialysis. Today, most people in the United States of America also have access to medical care with the new insurance legislation. For those of you seeking a career in the medical industry, being a Dialysis technician is a good career choice.
How much money can you make as a Dialysis Technician?
The latest reports suggest that in New York, a Dialysis Technician can easily earn approximately  $26.42 per hour in New York State. This is 30 percent above the national average. The annual base compensation for Dialysis Technician ranges from $35,021 to$44,855. The average annual base salary is approximately $39,576. 
How long does it take to become a certified Dialysis Technician?
It can normally take a minimum of 1 year and a maximum of 1 and a half years to become a dialysis technician. This duration includes time spent in an accredited program and completing a clinical internship as well as on the job training.
How much does it cost to get a Dialysis Technician certification?
There are no free courses or certification available at the moment to become a Dialysis Technician. It can cost anywhere between $3,000 to $20,000 to become a dialysis technician after pursuing a dialysis technician course. This includes tuition fee, books and other costs.
Here are some programs and their fees:
Brooklyn College-Tempe: $15,225
Midwestern Career College: $11,420
Atlanta Technical College: $2,820
Florida Panhandle Technical College: $3,773
If you are interested in online courses, the Phoenix College Downtown in Arizona offers a 62-hour dialysis technician program at a fee of $999