A security guard is plays a very crucial part in the society today. With an increase in crime and the affinity of the population towards breaking the law, it is not just the police department or the judiciary that comes into the foreplay. A security guard is as important in maintaining security and stopping things from escalating. A security guard also helps the police department and the judiciary in maintaining peace and accord in the society. The main duties of a security guard involve maintaining a safe and secure environment for customers, residents and employees.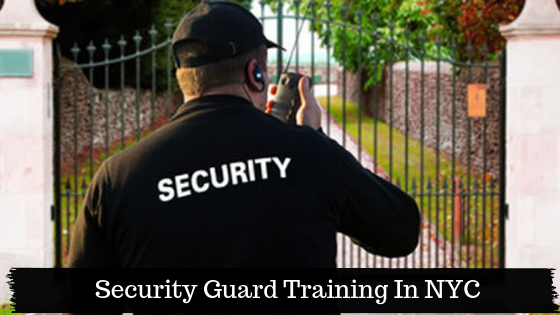 What are the duties of a security guard?
Ideally a security guard is expected to maintain security by patrolling and monitoring premises and people. A security guard follows procedures, restrains trespassers, and maintains an organization or area's stability and security while complying with legal procedures, evaluating equipments and works in a team to obtain results.
Furthermore, a security guard also prevents unforeseen damage, reports any irregularities, stops violators and focuses their attention towards policies and procedures 
What is eligibility to apply for a security guard course in NYC?
You must be 18 years or older and have at least a High School diploma or equivalent. You need an up to date resume.
Other necessities include a U.S. citizenship. You can also be a resident alien of the United States. It is mandatory to not have any previous criminal record. You also require a driver license number.
You also need to take the state-mandated Pre-Assignment course of 8-Hours. After the successful completion of the course, a certificate will be issued to you that is sent to the NY State as part of your application.
In the end, you are required to take a 16-hour On the Job Training course popularly known as OJTC, within 90 days of being employed as a security guard.
How much does a Security Guard earn in New York?
As of 2019, the average salary of a security guard is $32,296. The average range lies between $28,596 and $37,079. Even the lowest paid security guard can make up to $22,220. In fact, New York is one of the highest paying zones at $47,750.
How much does the Security Guard license cost?
Typically the fee is $136.25. There is an additional Fingerprinting Fee of $100.25 that is payable to IDEMIA.
How long does it take to receive a security guard license?
From the time that you send in your application, it can take a maximum of 21 days for you to receive your license in your mail.
You can always track your status on the Licensing Status page of the NY State Division of Licensing Services.
Are there any free security guard training courses?
There are many organizations that offer security guard training, for example:
GSG offers a 47 hours training course for $1,750
Security Academy of New York offers a security specialist training course for $1,000.
There are also some organizations offering free security guard training based on some criteria. For example:
Star Security Training offers a free security guard training course for certain candidates.
The course entails an 8 Hour Pre-Assignment Training Class, which helps you in getting your license.  After successfully completing the course you are given a certificate based on which you can apply for your license.
The next step is a 16 Hour On the Job Training. The on the job training is divided into 2 days and should be taken within 90 days of being employed as a security guard. This training focuses on specific duties related to the job and the employer.
The program also offers Fire Guard training for obtaining a fire guard license.
You can get more information on the following locations:
Queens: 41-17 Main St
3rd FL
Flushing, NY 11355
Open Mon-Fri, 9 am-5 pm
—
Bronx: 1029 E 163rd St
3rd FL
NY, NY 10459
Open Mon-Fri, 9:00 am – 5 pm
—–
Manhattan: 1250 Broadway
Suite 810
NY, NY 10001
Open Mon-Fri, 9 am – 5 pm
—–
Brooklyn: 9 Bond St
5th FL
NY, NY 11201
Mon, Thurs, Fri, 8:30 am-5:00 pm
Tuesday, 8:30 am – 7:00 pm
Wednesday, 8:30 am – 6:00 pm