EMT or Emergency medical technicians are paramedics or ambulance technicians trained to respond to medical emergencies. They particularly deal with traumatic injuries in accidents, before a patient is taken to the hospital to get emergency treatment.
Emergency medical technicians mostly work in ambulances. However, Emergency medical technicians are not ambulance staff rather they are employed by hospitals, fire departments, police department or governments to act in emergency situations. Emergency medical technicians have a limited scope of practice as compared to traditional doctors and often work under the supervision of a physician.
Emergency medical technicians obtain their certification based on their level of training. Different states have different standards of certification. However, in the United States of America, all EMTs must abide by the minimum requirements set by the National Highway Traffic Safety Administration.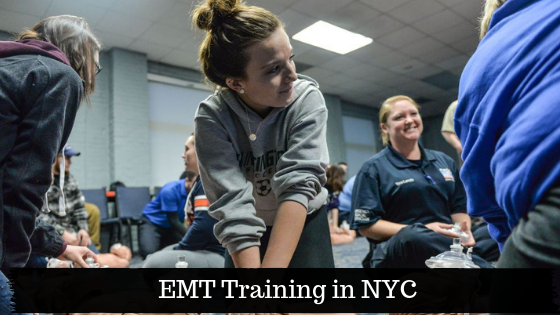 What is eligibility to apply for an EMT course in NYC?
One must be 18 years or older while applying for the EMT certification. You do not require a high school graduation diploma, driver's license or US citizenship to enroll yourself in an EMT course. You do not even need a green card. These factors may contribute to your employability based on where you seek employment, but they are not a mandate to enroll into the EMT course. In addition to this, you need to be able to write, speak and read English.
Furthermore, you need to fill in the Application for Emergency Medical Services Certification (DOH-65) and   pass the practical and written certification examinations. Some other criteria are:  ability to lift up to 125 pounds and 250 pounds with assistance, be unaffected by loud noises and flashing lights, be able to effectively question and communicate with patients etc. be comfortable in confined spaces.
Why become an Emergency medical technician?
Since the year 2002, there has been a rise in the employment of Emergency Medical Technicians. As per the United States Bureau of Labor Statistics, the coming years till 2022, will likely witness a further growth of up to 23% and demand for Emergency Medical Technicians and paramedics. Job opportunities in cities like New York City are particularly growing with more and more private ambulance services in the city.
Health is always a deteriorating factor in the current times which calls for the demand of paramedics and emergency medical technicians. As the population gets older, age-related problems can lead to emergencies that can hike the need for emergency medical personnel.
The medical profession is a very demanding profession for sure. It is also a very noble profession. For those of you who wish to be a part of it but do not want to put in as many years and money in becoming a doctor, being an Emergency Medical Technician is more attainable option for most of you if you wish to be in the medical industry.
How much money can you make as an Emergency Medical Technician?
While salaries may differ depending on the location, but on an average EMTs can earn close to $25,000 to $54,000 yearly. In addition to this there are overtime benefits that can help you earn more. EMT salaries are often higher in urban areas compared to rural areas. If you are looking at a city like New York City, then be rest assured you should be on the higher end of the spectrum.
How long does it take to become a certified Emergency Medical Technician?
It can take anywhere from 3 weeks to 2 years to become a certified Emergency Medical Technician. It depends on the level of certification you are seeking to obtain.
Cost to get an Emergency Medical Technician certification?
It can cost between $1000 – $5000 to get an Emergency Medical Technician certification. This includes the tuition fee, registration fee, lab fee, uniform fee and the cost of books.
EMT Training in NYC 2019
Some institutes that you can refer to obtain your certification are:
Center for Allied Health Education: Total cost $1550
Emergency Care Programs: Total cost $1250
Free EMT Training in NYC 2019
While there are no free courses at the moment but if you are looking for scholarships you can check the following programmes:
San Francisco Paramedic Association
The Iowa Emergency Medical Services Association
The Brian Jenneman Memorial Scholarships
James and Lois Burch Health Occupations and Education Scholarship
Scholarships for EMS Personnel