The Ministry of Education takes care of its technical education and vocational training in Thailand. Since high school, a student's vocational education starts. During the senior secondary school norm, the education system is divided into 2 branches: General and Vocational. 60 % of the students opt for the general courses while the rest of the 40 % youth are involved vocational courses. The Thailand Government is working to balance the ratio of general and vocational students. The Government is also working for the cause of making the vocational study programs more popular.
Thailand has taken the vocational courses in a positive way and also their many students who prefer to take the vocational courses to gain a specific skill to get job early. The Thailand Government has also made the concept of learning and earn where economically poor people's family can be supported also.  This concept is followed by the "Fix IT Centres" which organizes vocational training and education, helps the students with achieving on-field work experience and earn a meager salary. Though the money offered is quite little but it will take care of the student's personal allowances, and also develop a positive attitude towards the vocational training.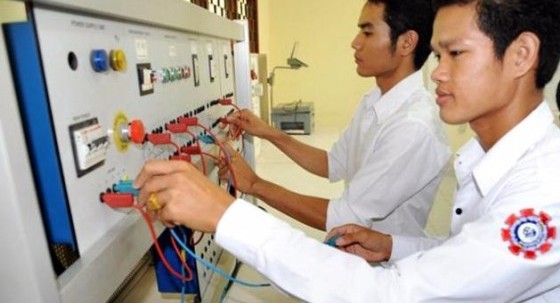 The extent of vocational training in Thailand
Currently, the Vocational Education Commission (VEC), of the Ministry of Education teaches a million students the job-oriented Vocational courses at its 512 colleges. Moreover, approximately, 380,000 students were studying in 401 private vocational schools and colleges.
Vocational Education System in Thailand
The vocational training in Thailand consists of 3 systems. These are:
The normal program.
DVT- the dual-vocational training program
Non-formal program
The normal program consists of 3 levels of vocational training in Thailand:
Level1: This is a certificate course known as Bor Wor Saw. It is done during upper-secondary time.
Level2: This is a technical diploma course pursued by the students after school exam.  This is called Bor Wor Chor.
Level3: This is a University level, higher diploma program. This is also known as the bachelor degree too.
The Dual Vocational Training (DVT) was inspired by the education system of Germany and this concept denotes that the student can study as well as work as an intern in some company. The duration of this training is 3 years.
There are 2 levels of programs offered by the Dual Vocational Training program. These are:
Certificate level: This is a 2 year duration program for a skilled worker. The students above the age of 15 and who have completed Grade 9 are given training.
Diploma level: This is a 2 year diploma program for technical workers. A certificate of graduation or any certificate of vocational education is eligible to go for this courses.
Thailand Government's initiative to improve vocational training
The office of the Vocational Education Commission (OVEC) governs around 415 colleges which offer vocational courses in 13 trades.
The Government of Thailand gives utmost importance to the vocational trades and skilled workforce. Many policies has been implemented to improve the candidate's techniques and skills. It also develops the productivity of manpower.
Strategies like "learn and earn" and the establishment of "Fix It Centres" increases the popularity of vocational courses throughout the length and breadth of Thailand.
Popular Vocational courses in Thailand
There are hundreds of vocational trade courses available in many training institutes such as Computer Specialist, Radiation Therapist, Nuclear Technician, Dental Hygienist, Fashion Designer, Commercial pilot, Nuclear Medicine Technologist, Electricals and Electronics Repairman, Web Developer, Cardiovascular Technologist, Catering & Hotel Management, and many more innumerable vocational trades.
Popular Vocational training schools in Thailand
Le Cordon Bleu: The Le Cordon Bleu Institute is an International cooking and service institutions. It has achieved excellence in food and is renowned for creating world-class cuisine. Here students can learn basic to advanced courses upon Cooking, bakery & desserts, bread, wine & drink, Cheese knowledge, Kitchen skills, short-term culinary courses and other courses like Food decorating design coffee making and basic restaurant manager.
Students can apply online to https://www.cordonbleu.edu/thailand/admissions/th to fill up the application form along with the desired course chosen by them. Moreover, you can also submit your application form to the school also directly.
Chulalong Korn University: The Chulalong Korn University was founded on 1917. It is a public and autonomous research University in Bangkok. This University offers various courses in technical and vocational fields like Dentistry, Medicine, Nursing, Sports Sciences, Veterinary Science, Engineering, Architecture, etc. Admission to Chulalong University is totally based upon merit. You can apply online too at www.chula.ac.th by filling up the online application form.
Siam Technology College: Siam Technology College is a private college of Engineering and Science & Technology. It was established in 1965, and governed under the Office of the Higher Education Commission. It is a private vocational institute to offer degrees in BBA, BA in TESOL and diploma in language acquisition. Phonology, morphology, syntax, etc. It also offers courses on Digital leading and learning. For admission, you can apply directly at http://siamtechnologyinternational.com/ by filling up the online application form and wait for their call.
Final Words
It is important to identify the choice of your career. If you have chosen the desired career and also took up the relevant course it will surely fetch you a good job. Moreover, the internship training will also enable you to earn within weeks of joining the program. Getting a vocational training program will help you to access industrial skill certificates, diploma or associate degrees.
There are various vocational courses offered in Thailand, you can use our website to get suitable information about vocational courses and vocational institutes as well.